Beemer Fisheries
Specializing in the White Amur, the biological alternative to costly chemical weed control in ponds and lakes!

Beemer Fisheries has raised and sold fish right here in Iowa since 1977, so have over 45 years of experience to make your project a success! We specialize in all your pond ownership needs.
White Amur – Natures affordable moss and weed control for your pond

Panfish – Bluegill, Hybrid Bluegill, Crappie, Redears, Yellow Perch, and more

Predator Fish – Largemouth Bass, Hybrid Bass, Catfish, Walleye, and more

Pond Feed – Fathead Minnows, Crawdads, Tadpoles, Fish Food, and more

Texas Hunter Fish Feeders, Fish Habitats, Grow out cages, and Spawning Mats

Pond sampling, Pond kill outs for stunted ponds, and other pond management

We also offer the Iowa DNR pond stocking recommendations. Contact us for pricing for the DNR pond stocking program.
Delivery and Pickup:
We offer affordable shipping to your door in Iowa!

Contact us about truck delivery to your farm.

Customers from many states are so happy with our fish that they drive to pick up directly from our hatchery.

Call for appointments and quotes.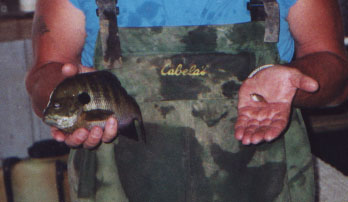 Randy Beemer displaying an adult hybrid bluegill and fingerling.
The small fish can become the length of the adult in one growing season.

Beemer Fisheries
2187 265th Street
Bedford, IA 50833
712-523-3451
beemerfisheries@gmail.com
Home

Fish

Habitat

Aerators

Feeders

Consultation

Delivery

StockingLinks

Contact Us